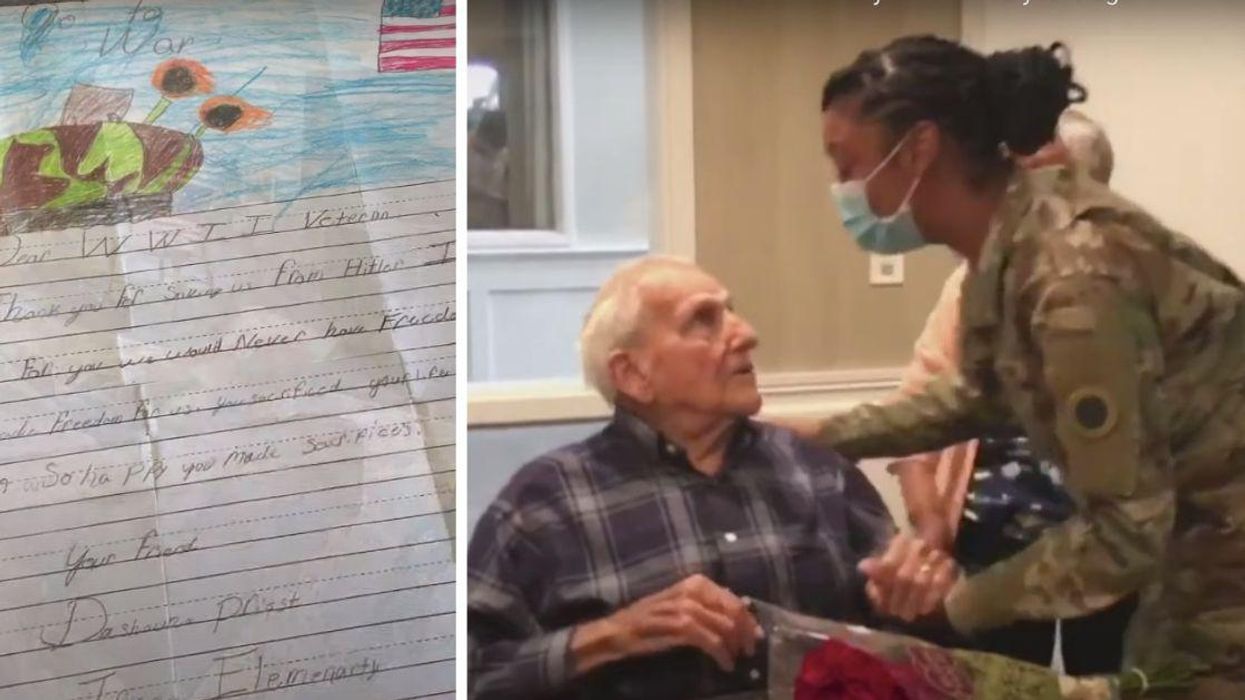 Frank Grasberger has been wishing he could meet Dashauna Priest for more than a decade. The 95-year-old WWII veteran from Strongsville, Ohio received a letter from Priest wrote when she was in the third grade 12 years ago, and he has kept it as a prized possession since then.
The letter was addressed, "Dear WWII Veteran," and read, "Thank you for saving us from Hitler. If it wasn't for you we would never have freedom. You made freedom for us. You sacrificed your life. I'm so happy you made sacrifices." It was signed, "Your friend, Dashauna Priest."
Grasberger's wife, Delores, told CBS News that he carries the letter everywhere. He said he sees it as a symbol of a life well-lived.
---
"I'm tickled to death that I have a letter like this," Grasberger told CBS. "I'd never be without it…it's something that somebody thought of me that much."
Delores added, "When he has that letter with him, he has a feeling of faith, and trust, and love."
Priest, now 21, told CBS News that she remembers writing the letter and was honored to do so because she so admired people in uniform. Now Priest has a uniform of her own as a member of the National Guard, and she wore it when she went to surprise Grasberger at the senior residence facility where he lives.
The Grasbergers had always wanted to find Priest but had never been able to. Knowing about his attachment to the letter and how much it meant to him, the staff at the residence facility tracked her down and arranged the surprise meeting for him.
Grasberger was overjoyed. Just watch:

WWII veteran meets woman who wrote him thank-you letter 12 years ago

www.youtube.com

Priest told CBS that meeting Grasberger was the beginning of a friendship, then corrected herself. "Family, not friendship," she said.
What a beautiful story of gratitude, honor, sacrifice, and connection. You just never know the impact one small gesture will have on someone else's life.
Source: https://www.upworthy.com/wwii-veteran-meets-girl-who-wrote-letter