Singer and guitarist Phill Celeste, better known by his stage name Life On Planets, is a man on the move who recently made his debut on the Do Lab Stage at this year's Coachella Valley Music and Arts Festival. Originally from Baltimore, Maryland, he found his passion for music within the city's vibrant scene and inclusive community. He started with street performing and worked his way up to playing at clubs and recording with electronic music producers.
Local success opened the door for Planets to travel for festivals and gigs in major U.S. cities like New York, Miami, Los Angeles, Chicago, and Detroit. The artist's unique sound — an eclectic blend of soul, R&B, and house — eventually sent him international to Japan, Romania, Russia, the Dominican Republic, Colombia, and beyond. But while traveling and playing shows in destinations far and wide is an exciting venture, there's nothing quite like going back to your roots.
"Baltimore was an amazing place to get my start in music," Planets says. "You can catch everything from B'more club, new hip hop, experimental music, and incredible art any time of the year."
To learn more about what makes Baltimore worth a visit, we asked Life on Plents to share everything a first-time tourist should see, do and eat.
"Meet artists, medical professionals, filmmakers, diehard Ravens fans, farmers, nomads, and more communing together at its bars, cafes, clubs, markets, gardens, parks, and warehouse parties," he says. "Get to know the folks and the culture and you'll find that although the city is small, it has everything you need to agree with the city benches that read 'The Greatest City in America.'"
Not convinced to book your flight yet? Check Life on Planets' full guide to his city, below.
ALSO READ:

Producer And Renowned DJ AMÉMÉ Shares His Detailed Guide To NYC's Nightlife Scene
Nashville-Based Band, COIN, Shares Their Detailed Guide To The Music City
Rapper Rob49 Shares Where To Eat, Shop, And Explore In New Orleans, Louisiana
Egypt Beyond The Pyramids: A Digital Nomad On One Of Her Favorite And Most Surprising Destinations
Zach Hood's Guide To Gulf Shores, Alabama — Just In Time For Hangout Music Festival
View this post on Instagram
North Avenue Marketplace
The North Avenue Market has food, drinks, an arcade, and a live music venue where you can check out new directions in dance music from artists like Mateyo. From here you can also walk over to the Maryland Institute College Of Art, MICA, to see some of the student artwork as well.
The Crown
I used to go to The Crown seven nights a week! There are dope Korean munchies, interesting people, and epic dance parties. Everything from comedy shows, hip hop, and house music under one roof. Bmore is a city that celebrates its BIPOC/Queer community, and I found The Crown to be the most diverse in its artist bookings and in its patrons.
Loved coming through and meeting people and just catching the vibe of the diverse crowd. Definitely stop through for Karaoke Tuesdays.
View this post on Instagram
Metro Gallery
Metro Gallery offers an upscale vibe while delivering the local flavors for Bmore music. Catch hometown legends like Future Islands, DDm, or James Nasty and take home some of the art on the wall. Hit The Charles Theatre across the street for an indie film before the show.
View this post on Instagram
R. House
Baltimore is a super walkable city and Remington is becoming more and more of a hub. With options for every type of foodie (vegan and vegetarian friendly!) I would visit R. House often for a good meal or one of their many special brews on tap. Hit it for some Instagrammable bites and drinks before or after the Baltimore Museum of Art.
The Wyman Dell down the street is also a great place to relax, dog watch, and take your food for a picnic. Take a stroll through the Johns Hopkins campus to walk off the grub.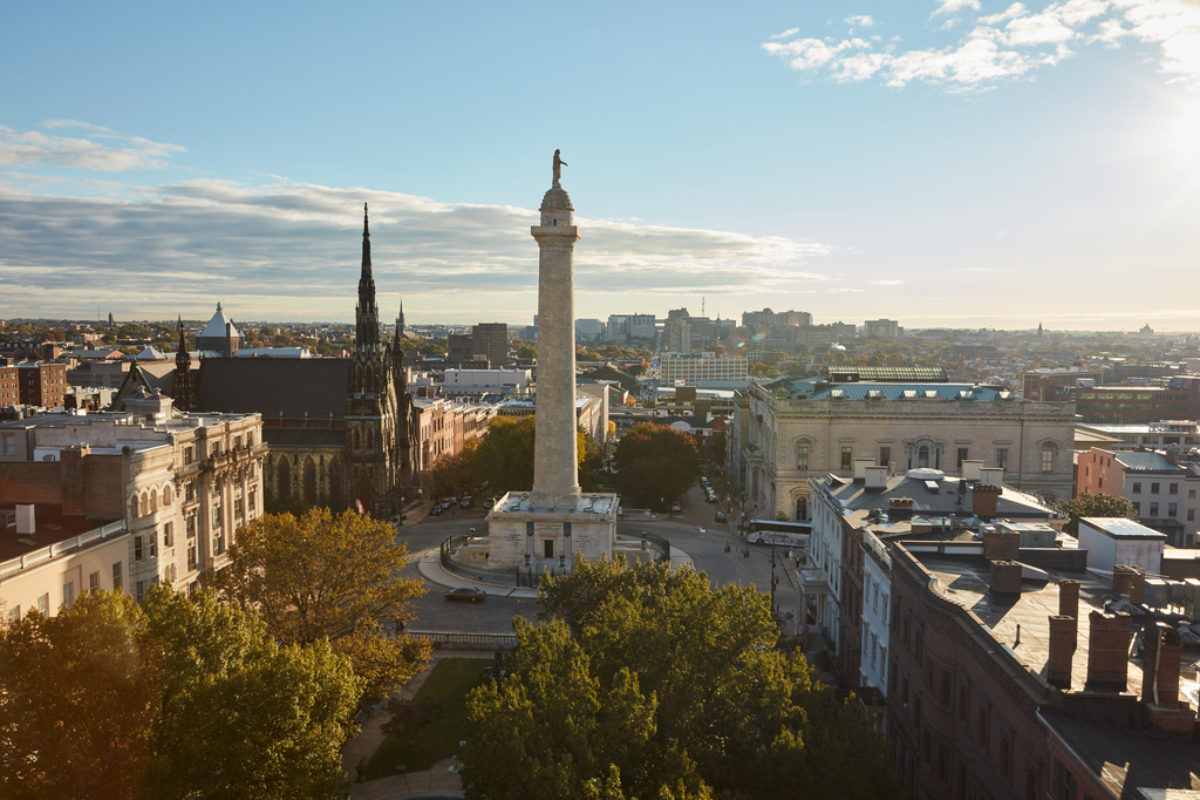 Washington Monument
They say Washington himself is buried deep below…who knows. The Washington Monument is surrounded by beautiful parks and architecture. I used to come here to do a little yoga or pluck out tunes on the guitar. Super chill area. Nearby you'll find the Walters Art Museum, the Peabody Conservatory, and plenty of dope shops and restaurants along Charles St.
View this post on Instagram
Visionary Art Museum
See the world through some of the most creative and eccentric minds in the Visionary Art Museum focused on creations from self-taught artists. The exhibitions feature works collected from mental asylums, street artists, and even pieces by Alex Gray. Very enlightening and inspiring. On the way take a walk by the Inner Harbor and catch the more frequent hangs like the Aquarium and the mall for shopping.
View this post on Instagram
33rd St Farmers Market
I used to busk at the 33rd St Farmers Market on Saturdays. Get the Black Sauce Kitchen biscuits for an otherworldly experience and catch the live music from different street performers. Also, load up on local coffee from Zekes and fresh veggies from Baltimore farms. Afterward, stop by Normals for dope esoteric books and vinyl.
Source: https://uproxx.com/life/baltimore-maryland-travel-guide/