Many of us can only imagine what it must be like to become a meme. A vast majority of our favorite internet jokes and reaction images come from candid shots of people who, more often than not, are simply living their lives. However, even a brief and unforgettable moment captured on camera can help one be transcended into full-blown meme status. But there's a lot to be said about the people on whom those memes are based.
Article continues below advertisement
People who end up as memes still go on to live a life outside of their pseudo-internet fame. Some become unrecognizable from their online images. Others even outright reject or regret the fact that random strangers use their images for their own purposes.
In some cases, though, they fully embrace the fact that they are or once were a meme. As a matter of fact, the "Crying Northwestern Kid" essentially used his meme status to help him get into college. Here's what he's up to now.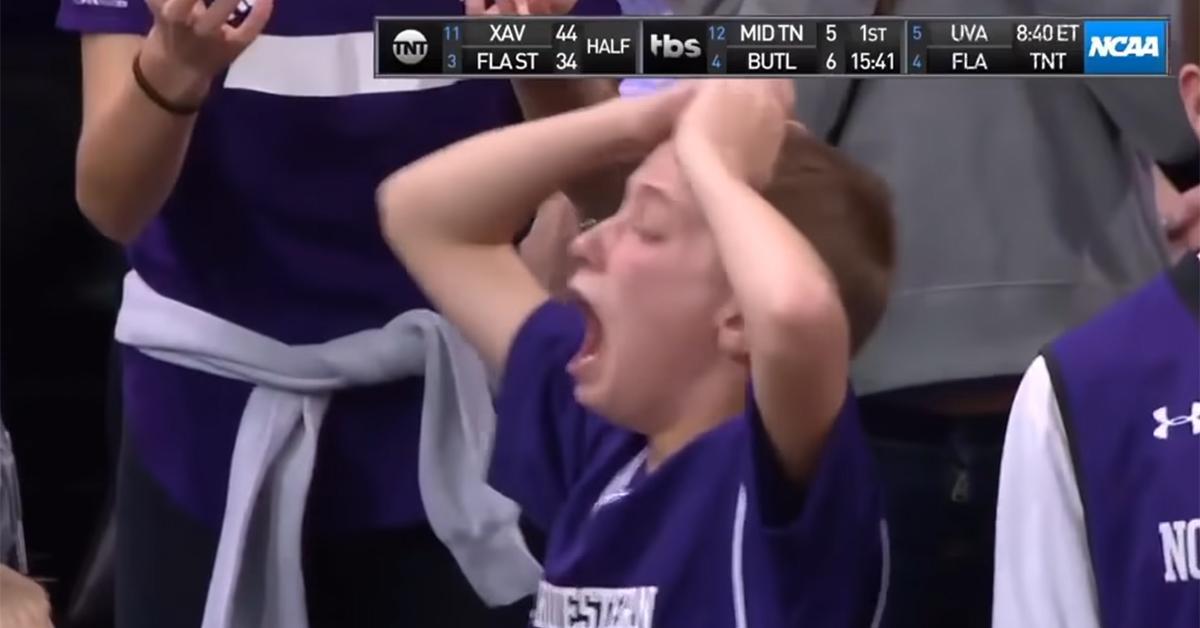 Article continues below advertisement
What is the "Crying Northwestern Kid" up to now?
In case you aren't aware, the Crying Northwestern Kid is a meme that first spawned on the internet in 2017. It depicts a young 12-year-old boy wearing a purple Northwestern jersey while in the stadium watching the Northwestern Wildcats compete in the NCAA Tournament during March Madness. After the ref makes a call in the opposing team's favor, the kid is caught on camera agonizing over the announcement. Sports coverage at the time captured many of his emotional reactions to the game.
The kid generates a wide range of facial expressions as he displays his utter disbelief and anguish. Each of them makes for perfect reaction images and GIFs for when you're passionately upset about something. Whether you're angry-tweeting or venting in a group chat, the Crying Northwestern Kid has a face for you.
Interestingly enough, however, the actual kid was able to use this momentum to get into college. And no, he's not attending Northwestern University.
Article continues below advertisement
"Crying Northwestern Kid" John Phillips used his March Madness meme status as part of his college applications.
The kid's real name is John Phillips, and he isn't the average Wildcats fan. According to a recent profile by The Sporting News, he and his four siblings grew up surrounded by the Northwestern athletic teams. His father, Jim, was the athletic director of the school at the time. John himself even spent plenty of time with the team, which would explain his reactions during the March Madness 2017 game.
Article continues below advertisement
Despite the awful moment he must have had during that portion of the game, John was able to use his meme status in his college applications. He wrote his college essay on being the Crying Northwestern Kid and how he "faced his most embarrassing moment" and "embraced it." That passion, combined with his other credentials, got him into Harvard University. As of this writing, he is wrapping up his freshman year.
John Phillips is an interesting example of how people who were once memes can use that status to achieve greatness, but the Crying Northwestern Kid will always be with us whenever a team does poorly during March Madness.
Source: https://www.distractify.com/p/crying-northwestern-kid-meme-now