Chiefs fans are pumped to see the Kansas City team heading to the Super Bowl on Feb. 12, 2023. Other than quarterback Patrick Mahomes, one of the team's biggest stars is Travis Kelce. The duo are not only friends, but teammates, telling The Kansas City Star that they credit one another for their successes on the field, and enjoy vacationing together during off-season.
Article continues below advertisement
While Patrick is settled down with his wife, Brittany, Travis hasn't taken that trip down the aisle yet. So who is the tight end dating? Here's what we know about the NFL player's romantic past and present — and maybe even his future.
Travis Kelce's dating history includes breaking up and making up with Kayla Nicole.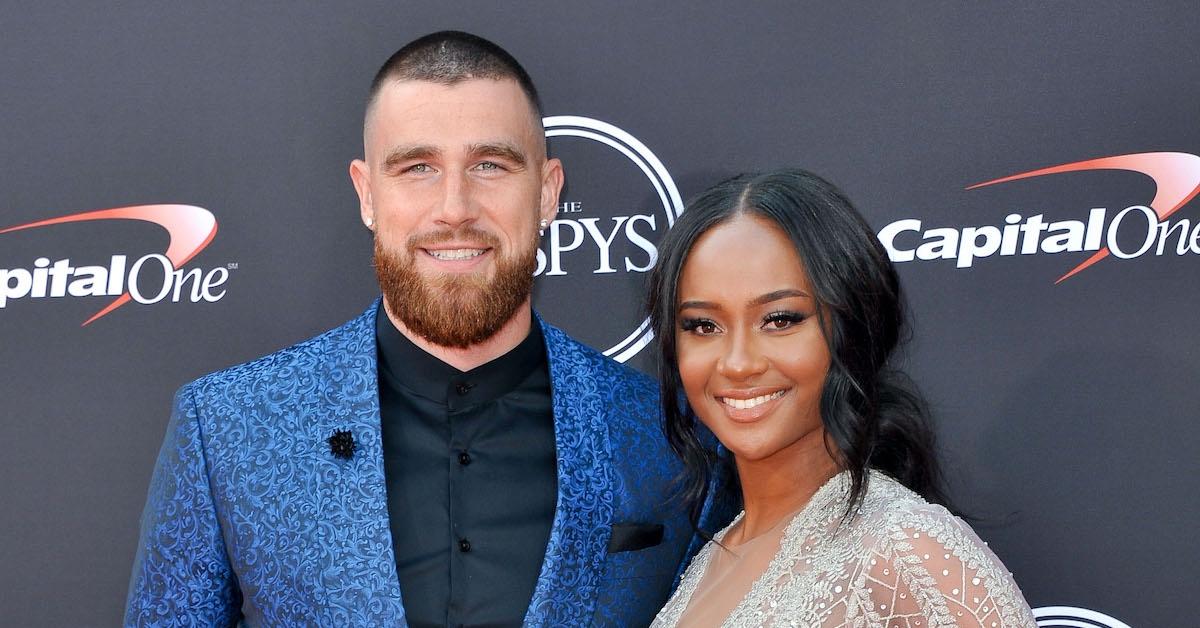 Travis doesn't seem to share too much about his personal life on his Instagram. However, according to Page Six, the pro athlete has been linked to Kayla Nicole as far back as 2017, although the pair reportedly broke up at least once.
Article continues below advertisement
The Super Bowl-bound star spoke about Kayla in December 2020, telling TMZ, "She's the best. She's the absolute best." So who is the lucky lady who snagged Travis' heart over the course of five years? According to Us Weekly, she's a graduate of Pepperdine University who now works as an interviewer of professional athletes who works for the likes of ESPN and Barstool Sports.
The couple met on social media, with Kayla, who has also worked as a model, revealing, "He had been following me and insta-flirting for a few months." They frequently hit red carpets together, and she has even developed a close friendship with Brittany, with the two WAGS previously working out together as recently as January of 2023. More on why that's somewhat scandalous in a moment. First, Travis has a very interesting past when it comes to finding women.
Article continues below advertisement
Before pairing off with Kayla, Travis was on a reality dating show.
Back in 2016, Travis starred on an E! reality show called Chasing Kelce. The NFL star found love on the competition series, choosing Kentucky native Maya Benberry in the end zone. Although he told his soon-to-be girlfriend she seemed somewhat arrogant, and said on the finale, "I have been attracted to women like that my entire life, and those relationships didn't work because of that. I don't want that anymore," Travis ultimately walked away with Maya, per E! News.
But after eight months, the reality romance had fizzled, and Travis quickly moved on with Kayla. Now, fans suspect he is moving on again, having reportedly called things off with Kayla in the fall of 2022.
Article continues below advertisement
Travis may be dating someone new.
We don't know where the athlete stands on the issue of marriage, but per Republic World, Kayla previously hinted on social media that she is "ready to be a wife."
But going to the chapel doesn't seem to be in the cards for the couple, as rumors began to spread that the Chiefs player had called it quits with Kayla at the end of 2022 — although she seemed to still be attending games in October, per her Instagram — and started dating Access Hollywood's Zuri Hall, per Barstool Sports.
Neither Travis nor Zuri have confirmed or denied reports that they are together. But several outlets are reporting that it seems as if Travis and Kayla are not dating heading into the Super Bowl and that he is indeed single, a status Travis seemed to confirm himself. "I'm in the free market right now. I'm out there just enjoying life, focused on my profession. Got my feet up outside of football," he said on the Pivot podcast early in the New Year, per Just Jared.
Source: https://www.distractify.com/p/travis-kelce-dating-history