If you're at spring break right now, you've likely heard the cries of "Shots! Shots! Shots!" — chanted like a siren song. Or maybe you've had a long week, watched too much news from around the world, and just need a bright shot on a Friday afternoon. We're not judging.
Either way, the Tropic Thunder is the way to go. Especially if you're looking for a boozy tropical fruit punch.
The thing is, this shot doesn't have a hard-and-fast recipe. It's kind of a fluid (sorry) set of guidelines that's "tropical" and strong. There is a classic Tropical Thunder cocktail that uses gin, peach schnapps, and pineapple juice which is the general foundation for this. From there, there are tons of variations, using everything from Kentucky bourbon to tequila to vodka to brandy. I like keeping it tropical with rum and a little orgeat (almond) syrup along with the fresh juice.
The point is, try this recipe because it f*cking rules then play around with it. Maybe go half tequila and half rum with your next batch. Or add some lime juice to cut the sweetness of the orange. It's up to you. Let's get shaking!
Also Read: The Top Five Cocktail Recipes of the Last Six Months
The Corpse Reviver No. 2 Is The Best Gin Cocktail For Winter — Here's Our Recipe
The Black Manhattan Is Our 2021 Thanksgiving Cocktail, Here's The Recipe
The Vieux Carre Is The Perfect Whiskey Cocktail For The Holidays
Celebrate Negroni Week With These Two Iconic Recipes
The Only Dry Martini Recipe You'll Ever Need. Period.
Tropic Thunder
Ingredients:
Makes four 1.5 oz. shots
2 oz. white rum
1 oz. peach schnapps
1 oz. fresh orange juice
1 oz. fresh pineapple juice
0.25 oz. orgeat
Grenadine for garnish
Ice
All of these ingredients are easily sourced at your local liquor store and grocery store. If you're buying fresh orange juice, make sure it's the one without pulp.
As for the rum, I'm using Equiano Light Rum because it carries a tropical, spicy vibe with a nice line of vanilla. Lastly, you should be able to find orgeat at any liquor store. It'll be in the syrup aisle.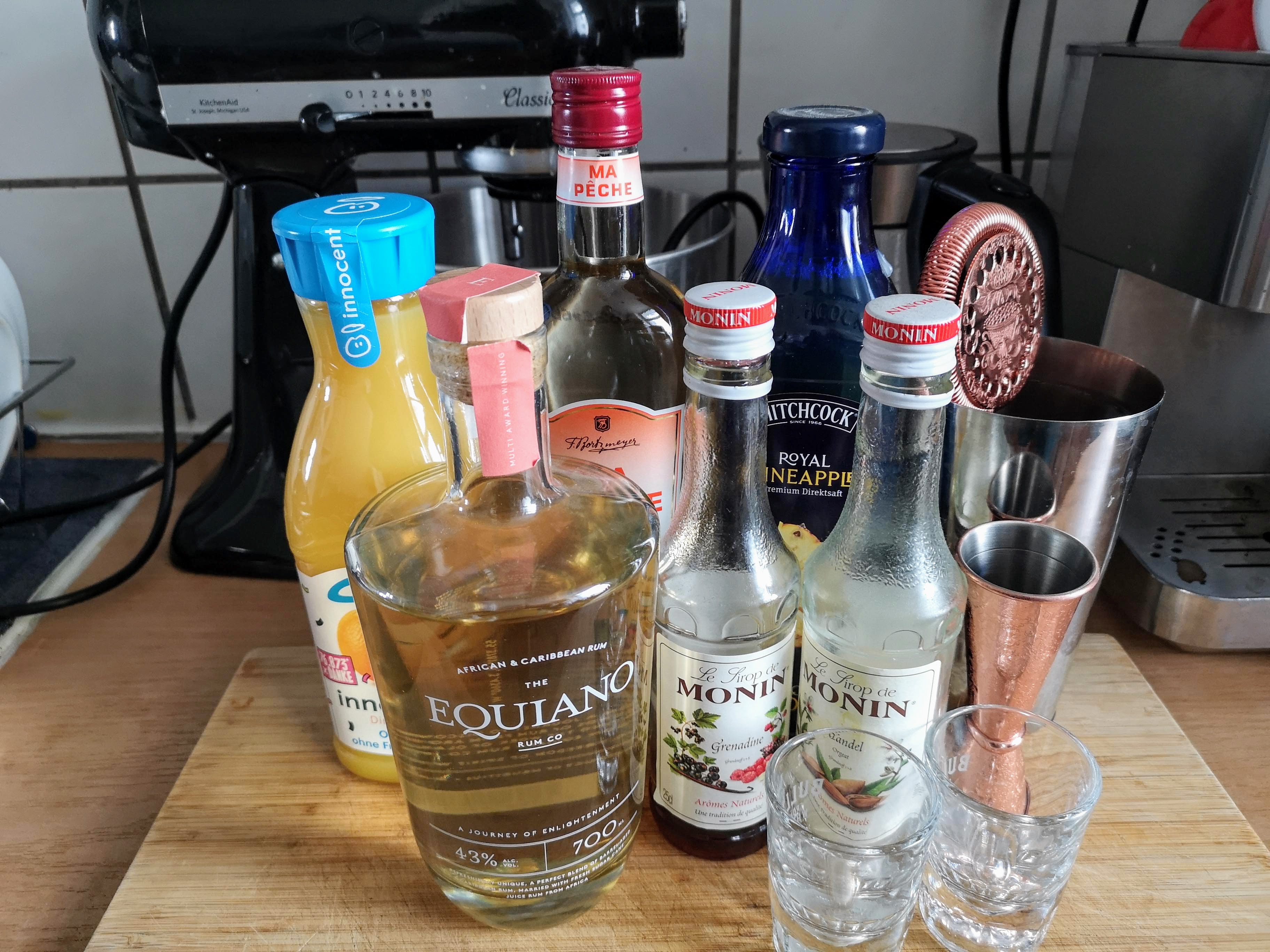 What You'll Need:
Shot glasses
Cocktail shaker
Cocktail strainer
Jigger
Method:
Add all ingredients to a cocktail shaker.
Fill the shaker about 1/2 with ice, affix the lid, and shake vigorously until the shaker is ice cold to touch (about 15 seconds).
Use the strainer to pour the shot into four waiting shot glasses, making sure to leave about 1/4 of an inch at the top.
Gently pour about 1/4 of an ounce of grenadine into the shot so that sinks right to the bottom of the shot glass. Shoot!
Bottom Line:
This is the sort of shot that makes you say, "Hell, yeah!" It's boozy, fruity, fresh, and just sweet enough to drive your brain to ask for another round. The mix of pineapple, orange, and peach has a nice tropical vibe that's really amped up by the nutty orgeat, which gives the shot a slight mai tai vibe.
The best part about this shot is that it's easily done in batches. You can just adjust ounces to cups — so, 2 cups rum, 1 cup peach schnapps, 1 cup orange juice, 1 cup pineapple juice, and 1/4 cup orgeat — and store the mix in a pitcher. Simply pour some into a cocktail shaker with ice, shake, and fill those shot glasses — don't forget the grenadine in the bottom of the glass. That will give you around 28 shots. Just make sure everyone is chanting "Shots! Shots! Shots!" while you're shaking and pouring.
Source: https://uproxx.com/life/best-spring-break-shot-tropic-thunder-shot-recipe/