Born six months apart, former British Prime Minister Margaret Thatcher and Queen Elizabeth II had a lot in common, but did they get along? The Crown's fourth season shows the two leaders at odds — and played, respectively, by Olivia Colman and Gillian Anderson.
"They're like twins who are not the same…. They're both very resilient, very committed, work incredibly hard, have an extraordinary sense of duty," The Crown creator Peter Morgan told Vanity Fair in a September 2020 interview. They're both really committed to the country. They both have a strong Christian faith. They're both girls of the war generation who switch the lights off when they leave a room. But then they had such different ideas about running the country."
Historians and biographers beg to differ, however — suggesting that any disagreement between the two women is heightened for dramatic effect on the Netflix hit. So, did they get along?
Another historian says Margaret and Elizabeth "quietly waged a war" against each other.
A different historian, meanwhile, claimed Margaret and Elizabeth's politeness concealed a years-long battle. "For over a decade, they quietly waged a war against each other on both personal and political fronts," Dean Palmer wrote in his book The Queen and Mrs Thatcher: An Inconvenient Relationship, per Vanity Fair.
Article continues below advertisement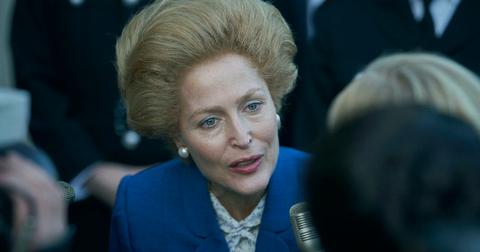 "Elizabeth found the means to snub and undermine her prime minister through petty class put-downs and press leaks. Margaret attacked her monarch by sidelining her, upstaging her, and allowing [media mogul Rupert] Murdoch to crucify the royal family."
Article continues below advertisement
For her part, Gillian based her portrayal of Margaret — who died in 2013 — on the two women's differences.
"Apparently the queen was always confused as to why Thatcher sat so far forward, on the edge of her chair, when she was in an audience," the actress told the magazine. "Then there's always how deep [Margaret's] curtsy was. … Apparently, nobody curtsied as deep as Margaret Thatcher. There's a lot written about their differences and how much they didn't get along — the fact that the royal family felt she was vulgar, and that a lot of her mannerisms were false in some way."
Peter, Gillian's partner, echoed the "chalk and cheese" assessment of Margaret and Elizabeth.
"And yet there [are] enough similarities to make it even more spicy," he told the mag. "It was very satisfying writing for them both."
Source : https://www.distractify.com/p/did-margaret-thatcher-and-the-queen-get-along