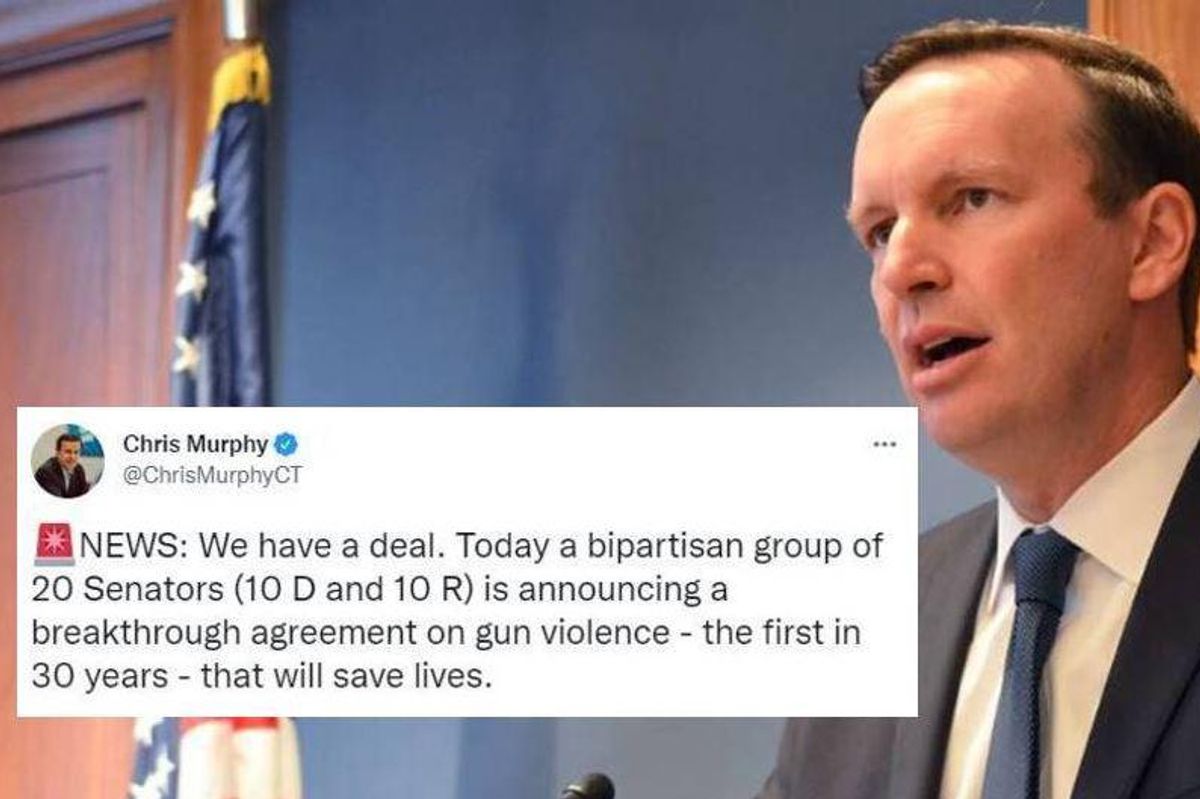 Americans are far too familiar with the mass-shooting cycle. After the feeling of horror lifts, we ask ourselves, "Why won't someone do something?" Then after thoughts and prayers are showered upon the victims' families, there's some discourse in Washington but the topic soon fades from consciousness after it becomes clear that our elected leaders refuse to do anything substantial to stop the violence.
When Congress did nothing after Sandy Hook, many of us reluctantly accepted that the unique form of terror that are school shootings as a normal part of American life.
---
\u201cAnother mass shooting in Texas after another mass shooting in buffalo and the cycle continues\u2026\n#stopgunviolence\u201d

— LouAye (@LouAye)
1653433067
However, a bipartisan group of senators has announced they've come to a compromise that, if passed, would enact a series of reforms that could significantly reduce gun violence in America. What's encouraging about the legislation is that 10 Republican senators, the number needed to pass the law in the senate with full Democratic support, have signed on to the compromise.
According to Politico, President Biden said it "would be the most significant gun safety legislation to pass Congress in decades."
The compromise doesn't include a ban on assault rifles, even though, according to a study cited in the Austin American-Statesman, the one in place from 1994 to 2004 made mass shooting deaths 70% less likely.
Democratic Senator from Connecticut Chris Murphy still sees it as a groundbreaking piece of legislation on an issue that has seen little progress over the past 30 years.
Murphy has been one of the most vocal supporters of reforms to protect Americans from gun violence after the 2012 Sandy Hook massacre happened in his home state.
\u201c\ud83d\udea8NEWS: We have a deal. Today a bipartisan group of 20 Senators (10 D and 10 R) is announcing a breakthrough agreement on gun violence – the first in 30 years – that will save lives. \n\nI think you\u2019ll be surprised at the scope of our framework. \n\n1/ Here\u2019s what it includes:\u201d

— Chris Murphy (@Chris Murphy)
1655049155
"The fact of the matter is that we've reached a compromise over the weekend that will save lives," he told MSNBC. "This does allow us to break this log jam and it allows us to be set up for future success. But the content of this compromise, in and of itself, will save lives."
Murphy provided an outline of the compromise in a press release on June 12. "Our plan increases needed mental health resources, improves school safety and support for students, and helps ensure dangerous criminals and those who are adjudicated as mentally ill can't purchase weapons."
The proposals contain legislation that would empower states to enact "red flag" laws to prevent people who are "a significant danger to themselves or others" from acquiring firearms. It also expands access to mental health services for people in underserved areas.
The bill would also keep weapons out of the hands of those who've been convicted of domestic violence and include enhanced background checks for gun buyers under the age of 21. These checks would consult local law enforcement and take mental health records into consideration.
The new legislation may prove controversial among die-hard conservatives but aligns with most Americans' views. An ABC News/Ipsos poll from June 5 found that 70% of Americans "think enacting new gun control laws should take precedence over protecting ownership rights."
Senator John Cornyn of Texas has been Senate Minority Leader Mitch McConnell's emissary to the talks and he feels Congress is under a lot of pressure to take action after the Uvalde mass murder in his home state, according to Politico, which quoted Cornyn as saying "it will be embarrassing" if nothing happens this time.
\u201cThis agreement will provide schools the resources they need to enhance security and keep our children safe.\n\u00a0\nIt will invest in mental health programs to support communities and schools.\n\u00a0\nAnd, it will not infringe on the rights of law-abiding gun owners.\u201d

— Senator John Cornyn (@Senator John Cornyn)
1655055399
While some gun safety advocates may find the bill disappointing because it doesn't include a ban on assault rifles, they shouldn't allow perfect to be the enemy of good. Murphy sees the compromise as a way to lay the foundation for future gun control legislation.
He told MSNBC that it's a means to "test the theory" that Republicans won't lose support for backing legislation that curbs gun violence and "will allow us to build on this."
Source: https://www.upworthy.com/chris-murphy-why-bipartisan-gun-safety-matters