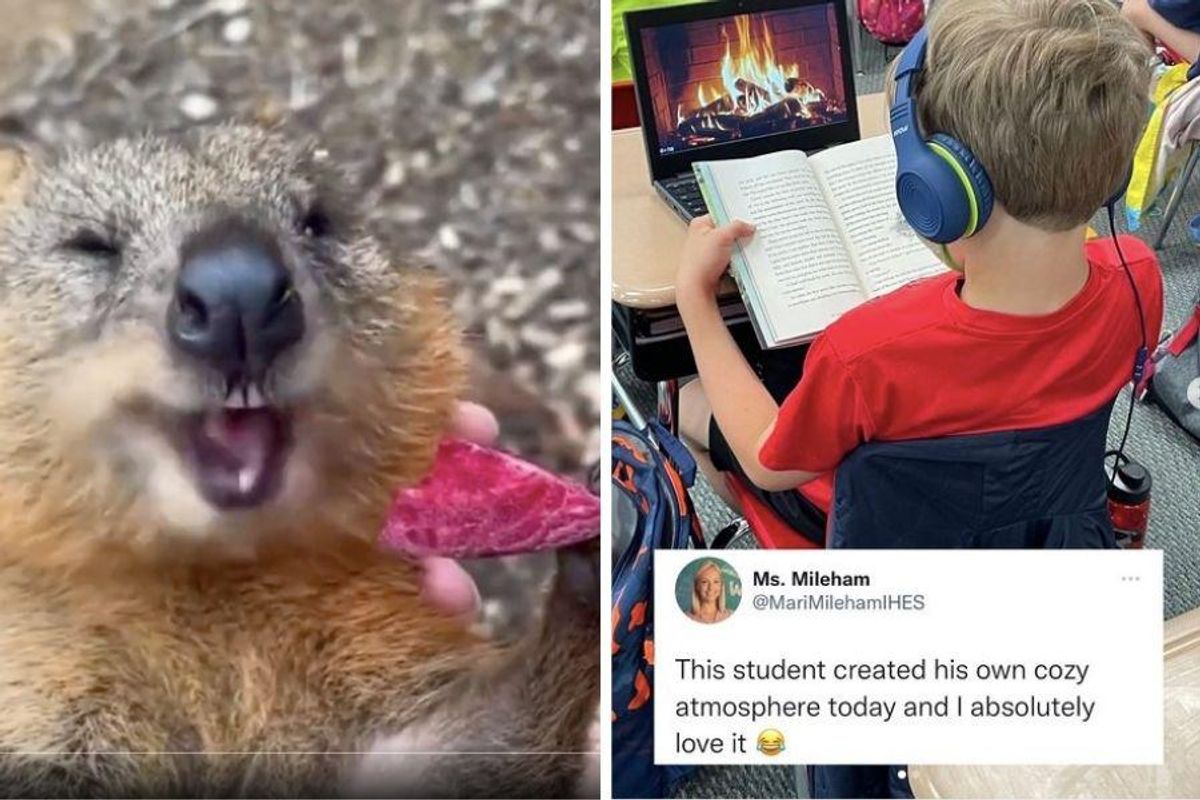 It can be easy to poo-poo positivity when the world feels like a giant flaming trash bin. And it's true that "toxic" brands of positivity that admonish people to simply put a smile on their face instead of empathizing or addressing the causes and effects of suffering are b.s.
But that doesn't mean we can't look for happiness in hard times. Finding delight in small things can be a lifeline when times are tough, and our ability to wield beauty and joy to spite the darkness is part of what makes humankind so amazing.
Sometimes we struggle to find solutions to problems, sometimes we have to fight against despair, and sometimes we just put one foot in front of the other to make it through the day. But we never know what little thing might spark something in our spirit, giving us just enough energy or hope to keep up our good work in this world.
Not that a hilarious dog dancing video is going to be life-changing, but if we allow ourselves to take a cleansing plunge into wholesome delight once in a while, we might emerge feeling more refreshed and ready for whatever it is we have to face.
---
And so we present this pool of 10 things that made us smile this week for us all to dive into. Enjoy.
The beauty and solidarity of music transcends borders.
Top violinists around the world joined Illia Bondarenko and other Ukrainian violinists who are hiding out in shelters in playing a Ukrainian folk song. It's a gorgeously haunting show of solidarity, reminding us of the humanity that connects us all. Read the full story here.
This 13-year-old with his heart-melting attempt to do something special for his mom. 
[Gulp.] Be right back, grabbing a tissue.
Gonna watch this doggo dancing just a dozen or so more times.
"Shake, shake shake, senora!." Go, doggy, go.
Kitten thinks he's a rabbit. Seriously. Adorable.
pic.twitter.com/heAVvS4V3n

— \uff4b\uff4f\uff43\uff48\uff45\uff4e\uff47 (@\uff4b\uff4f\uff43\uff48\uff45\uff4e\uff47)
1646389647
I wrote an article this week about why rabbits make the best indoor pets, but kittens are right up there. Combining the two? Priceless.
So many jokes about Tom Brady returning to football after getting a taste of full-time parenting.
When legendary quarterback Tom Brady announced that he was unretiring from the NFL a mere 40 days after he retired, the jokes started flying. He seems like a great dad, but the idea that he'd prefer to be pummeled by 300-pound linemen to coordinating kid activities was too much for the people of the internet to resist. The 5-hour dance rehearsal is spot on.
This kid knows how to create a calm reading environment. 
And kudos to his teacher for encouraging him. This kid will definitely be going places.
Speaking of kids going places, gotta love seeing a dream come true in real time.
Then: me, age 7, at the Field Museum when I first decided to be a paleontologist \n\nNow: me, age 23, a visiting researcher in the paleo collections at the Field Museum studying dinosaurspic.twitter.com/3C9weou5SH

— Lynnea Jackson (@Lynnea Jackson)
1647293911
Congratulations, Lynnea!
Quokkas are always good for a smile, but this one enjoying a beet is just beyond.
Twitter needs this happy smile.. pic.twitter.com/dZtKM3NlXP

— Buitengebieden (@Buitengebieden)
1647549304
Along with Hugh Jackman, the naturally smiley quokka is one of the greatest gifts Australia has given the world.
Because I can never get enough of pandas being playful…
Still wondering how does this species survive in the wild..pic.twitter.com/LTJLOzWVWv

— Buitengebieden (@Buitengebieden)
1647451859
Seriously, pandas are just little kids in bear suits. It's the only explanation.
And if none of that did it for you, feel free to join forces with this entirely unimpressed new human.
This newborn who detests Earth & everyone on it is my new godpic.twitter.com/RF9zE8lG4F

— Gabe Hudson (@Gabe Hudson)
1647393056
We feel you, little one. It'll get better, we promise. Or at least hope. We're working on it.
Hope that washed away some of the muck and mire. Come back next for another cleansing plunge into small delights.
Source: https://www.upworthy.com/10-things-that-made-us-smile-this-week-3-18-22